Lagi jalan2 ke Alfamart, eh secara nggak sengaja ngeliat minuman cincau Yeo's alias Yeo's cincau drink alias grass jelly drink. Kayanya menarik, karena seorang teman saya memberitahu saya tentang manfaat cincau alias janggelan (kata orang Jawa) bagi kesehatan:
Sebelumnya memang pernah beli Cincau Drink merek Wong Coco. Kali ini akhirnya si Yeo's "terpaksa" saya beli juga meski harganya yang lumayan "mahal" yaitu 3000an perak lebih dikit: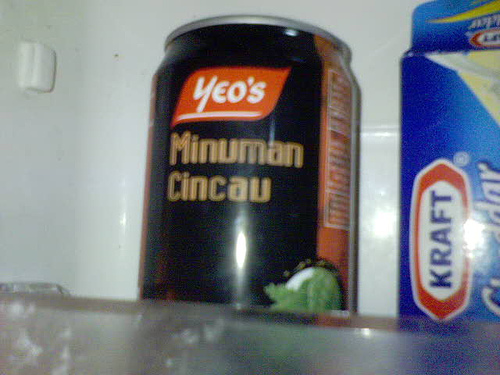 Dalam posting berikutnya, saya juga membahas manfaat cincau bagi kesehatan. 🙂
Note: Gara-gara nulis posting ini, saya jadi tahu kalo Alfamart nggak punya web site!! … ato lg disembunyiin ama pak Djoko Susanto? 😉
UPDATE: Ternyata ada, yaitu PT Alfa Retailindo Tbk. Cuma, Google search "alfamart" harusnya langsung membuahkan situs tersebut, setidaknya di halaman pertama kalo enggak bisa posisi #1. Cuma kalo melihat tulisan "Copyright ©2004 PT ALFA RETAILINDO, Tbk", yah… saya nggak bisa berharap banyak 😉 Mungkin karena sudah terlalu sukses jadi males ngurusin web site… (e.g., saya sendiri hueheheheh) 😛
POST UPDATE: Selidik punya selidik kalo Djoko Susanto sendiri punya intrik dan konflik yang menggelitik berkenaan dengan (mantan?) perusahaannya yang dikenal masyarakat awam sebagai Alfamart… Yah apapun itu, semoga sukses deh buat om Djoko!! Gw nggak begitu interested dengan politik business right now… 😉
Disclosure: I may get a small commission if you buy certain products linked in this article. However, my opinions are my own and I only promote the products and services that I trust.